Dr. Dean Vuletic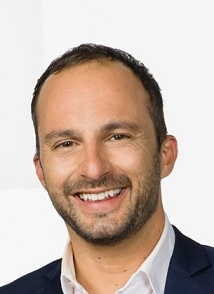 Dr. Dean Vuletic
Dr. Dean Vuletic is a historian of contemporary Europe based in the Research Center for the History of Transformations at the University of Vienna. He is the author of Postwar Europe and the Eurovision Song Contest (London: Bloomsbury, 2018), the first-ever scholarly monograph on the history of the Eurovision Song Contest, which he produced in the Department of East European History at the University of Vienna under a Marie Skłodowska-Curie Intra-European Fellowship. With a Lise Meitner Fellowship awarded by the Austrian Science Fund, he has also led a research project on the Intervision Song Contest, the Eastern European equivalent of the Eurovision Song Contest during the Cold War.
Together with a doctoral degree in history from Columbia University, Dean holds a master's degree in East European studies from Yale University and a bachelor's degree in European studies from the Australia National University, and he also studied at the Hebrew University of Jerusalem. He is the recipient of several academic awards, including a Max Weber Post-Doctoral Fellowship from the European University Institute, a Paul Celan Fellowship from the Institute for Human Sciences, a Whiting Fellowship, a Fulbright Scholarship and the University Medal of the Australian National University. He has taught courses at Columbia University, the European University Institute, James Madison University, New York University, The Cooper Union for the Advancement of Science and Art and the University of Vienna.
Dean regularly comments on the Eurovision Song Contest in the international media. More information about his activities can be found on his website www.deanvuletic.com.
Research project

Intervision: Popular Music and Politics in Eastern Europe
During the Cold War, from 1965 to 1968 and from 1977 to 1980, the Czechoslovak and Polish national television broadcasters respectively organised the Intervision Song Contest as an Eastern European alternative to Western Europe's Eurovision Song Contest. Unlike the latter, however, the Intervision Song Contest has hardly been the subject of academic research. This project examines the cultural, economic and political reasons for the development and decline of the Intervision Song Contest. It considers what the contest can tell us about relations among Eastern Europeans during the Cold War and between Eastern and Western Europeans during and after that period. For example, how was popular music appropriated by Eastern European states in their cultural diplomacy? How open were these states to Western European cultural influences, despite the political censorship imposed by their ruling communist parties? The project approaches the Intervision Song Contest as part of a pan-European network of cultural industries and mega events that connected actors and audiences from Eastern and Western Europe, shaping a common post-war European popular culture that was developed in and shared by both regions. The project is based on an original collection of documents and recordings from the archives of the Austrian, Czechoslovak, East German, Polish, Soviet and Yugoslav national television broadcasters as well as of the European Broadcasting Union.
Research interests
Cold War
Cultural diplomacy
European integration
Media
Popular music
Selected publications
Monograph
Postwar Europe and the Eurovision Song Contest (London: Bloomsbury, 2018)
Book chapters and journal articles
"Recognising Kosovo in the World of Televised International Song Contests". In Eurovisions: Identity and the International Politics of the Eurovision Song Contest since 1956. Eds. Julie Kalman, Ben Wellings and Keshia Jacotine (Basingstoke: Palgrave Macmillan, 2019): 111-128
"The Intervision Song Contest: A Commercial and Pan-European Alternative to the Eurovision Song Contest". In Beyond the Borders: Eastern European Pop-Rock as an International Phenomenon. Eds. Ewa Mazierska und Zsolt Győri (Basingstoke: Palgrave Macmillan, 2019): 173-190
"The Cultural Diplomacy of Authoritarian States in the Eurovision Song Contest". In International Relations, Music and Diplomacy: Sounds and Voices on the International Stage. Eds. Frédéric Ramel and Cécile Prévost-Thomas (Cham: Palgrave Macmillan, 2018): 213-234
"Popular Culture". In The Oxford Handbook of the History of Communism. Ed. S. A. Smith (Oxford: Oxford University Press, 2014): 571-584
"Out of the Homeland: The Croatian Right and Gay Rights". Southeastern Europe vol. 37, no. 1 (2013): 36-59
"Sounds like America: Yugoslavia's Soft Power in Eastern Europe". In Divided Dreamworlds: The Cultural Cold War in East and West. Eds. Peter Romijn, Giles Scott-Smith and Joes Segal (Amsterdam: Amsterdam University Press, 2012): 115-131
"The Making of a Yugoslav Popular Music Industry". Popular Music History vol. 6, no. 3 (2011): 269-285
Op-eds