Lukas Becht, M.A.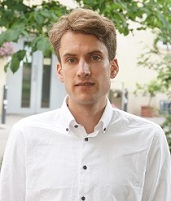 Lukas Becht, M.A.
Graduated in political science, sociology, and philosophy from the University of Freiburg/Breisgau in 2012. Internship at the Sejm of the Republic of Poland in 2012. Scholarship at the binational Polish-German doctoral school "Poland and Germany in modern Europe" at Ludwig-Maximilian University of Munich, cotutelle-agreement with the University of Vienna, where he is working on a doctoral thesis on the history of scientific future research in Poland and its role in regime change in the second half of the 20th century. He is also the project coordinator of "Economic Collectivism Old and New: Lessons from the Communist and Post-Communist Past" at the Research Center for the History of Transformations (RECET).
Research interests:
Histories of the future
Time and politics
History of economic and political knowledge
History of the humanities and social sciences
Latest publications:
"From euphoria to frustration. Institutionalizing prognostic research in the Polish Peoples' Republic, 1969–1976", in: Acta Poloniae Historica 116 (2017), pp. 277–299.
[with Piotr Filipkowski]: "Ćwiczenie wyobraźni socjologicznej: Polska futurologia naukowa lat 70 dwudziestego wieku", in: Stan Rzeczy 1:14 (2018), pp. 41–69.