kandidat nauk Olga Povoroznyuk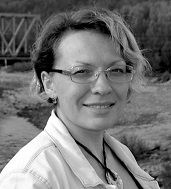 kandidat nauk Olga Povoroznyuk
Olga Povoroznyuk is a PostDoc Researcher at the Department for Social and Cultural Anthropology, University of Vienna. She received her highest degree and previously worked as a Senior Researcher at the Department of Northern and Siberian Studies, Institute for Ethnology and Anthropology, Russian Academy of Sciences in Moscow. Povoroznyuk is an author of a book on Post-Soviet socio-economic and cultural transformations among indigenous (Evenki) communities in East Siberia, and a number of articles on land use, cultural landscapes, gender relations, mobility and migrations, ethnicity and identity politics in the Russian North. Since 2015, she works on an FWF-funded research project on entanglements of human communities with transportation infrastructures, where she focuses on demographic and social change, interethnic relations and identity building in the region of the Baikal-Amur Mainline, Siberia.
Olga Povoroznyuk is a member of the Austrian Polar Research Institute, the European Association of Social Anthropologists, and the Association of Anthropologists and Ethnologists of Russia. She is visible at international social science conferences, regularly publishes in and acts as a reviewer for peer-reviewed anthropology and social science journals. In the recent years, she has also been teaching a number of social anthropology courses at the Institute for Cultural and Social Anthropology, University of Vienna and gave guest lectures at other universities in Austria, Russia and Germany.
Research Foci
Infrastructure and development
Postsocialist transformations
Indigeneity, ethnicity and identity
Colonisation, migrations and mobility
Post-Soviet space, Russia, Circumpolar North
Recent Publications
Povoroznyuk, Olga. 2020. (Post)Sovetskaia Infrastruktura: Politika Identichnosti i Emotsii na BAMe [(Post)Soviet Infrastructure: Politics of Memory, Identity and Emotions along the BAM]. Sibirskie Istoricheckie Issledovaniia, 2020 (3) (in print)
Povoroznyuk, Olga. 2019. The Baikal-Amur Mainline: Memories and Emotions of a Socialist Construction Project. In Sibirica, Vol. 18 (2019), issue #1, pp. 22-52; doi: doi.org/10.3167/sib.2019.180103.
Schweitzer, Peter and Olga Povoroznyuk. 2019. A Right to Remoteness? A Missing Bridge and Articulations of Indigeneity Along an East Siberian Railroad. Social Anthropology 27(2):236-252.
Kuklina, Vera, Olga Povoroznyuk and Gertrude Saxinger. 2019. Power of Rhythms – Trains and Work along the Baikal-Amur Mainline (BAM) in Siberia. Polar Geography, vol. 42 (1); doi: www.tandfonline.com/doi/full/10.1080/1088937X.2018.1564395
Schweitzer, Peter, Olga Povoroznyuk and Vera Kuklina. 2017. Beyond Wilderness: Towards an Anthropology of Infrastructure and the Built Environment in the Russian North. In Polar Anthropology, Vol. 7, No 1, pp. 58 85, http://www.tandfonline.com/doi/abs/10.1080/2154896X.2017.1334427
Povoroznyuk, Olga. 2016. Social Dynamics and Sustainability of BAM Communities: Migration, Competition for Resources, and Intergroup Relations. In Marlene Laruelle (ed.), New Mobilities and Social Changes in Russia's Arctic Regions. London and New York: Routledge, pp. 133-157.
Povoroznyuk, Olga. 2016. "Gorodskie Aborigeny" BAMa: Industrial'nyi Bum, Technosotsial'nye Seti i Bor'ba za Resursy ["Urban Aboriginals" of the BAM Region: Industrial Boom, Technosocial Networks and Competition for Resources]. In Etnograficheskoe Obozrenie, No1, pp. 23-41.
Research Projects:
Since 2021: Building Arctic Futures: Transport Infrastructures and Sustainable Northern Communities (INFRANORTH), ERC advanced grant (a scientific coordinator and senior researcher)
2015-2020: Configurations of Remoteness (CoRe): Entanglements of Humans and Transportation Infrastructure in the Region of Baikal-Amur Mainline (BAM) funded by FWF, Austria (a project component leader and researcher)
Since 2020: "Informal Roads: the Impact of Undocumented Transportation Pathways on Remote Communities of Siberia" funded by the US National Science Foundation (a consultant)
Since 2019: Permafrost Thaw and the Changing Arctic Coast, Science for Socioeconomic Adaptation" ("Nunataryuk", WP9 "Mitigation and Adaptation"), EU Horizon 2020 (researcher)
Links:
Page at the Department of Social and Cultural Anthropology
Page of the "CoRe" project